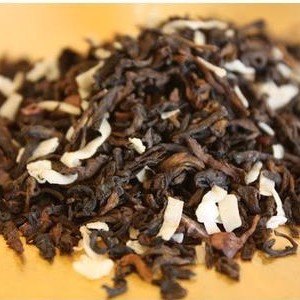 Tropic of Capricorn Tea
Tropic of Capricorn is a dark and delicious slightly sweet, blended Pu-erh tea with organic cocoa nibs, and raw coconut shavings.
A lovely dessert tea.

A phenomenal brisk morning tea as well as a settling after dinner dessert tea. Pu-erh is an earthy naturally fermented tea that is deeply restorative and nutritious.
While many categorize it as a black tea, it is actually considered a "dark tea" and is produced from raw large leaf green tea varieties. 

Wonderful served black, or with milk and honey. For a spicy treat we love to blend it with our Masala Chai.

Steep for 3-5 minutes in freshly boiled water

Contains Caffeine

Sold by the ounce