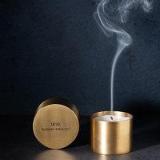 Tatine Blooming Osmanthus Candle Set
The aromatic extract of osmanthus comes from the cherished golden flowers of the Far East, derived from all-natural aroma compounds that were responsibly and sustainably sourced. The gorgeous olfactory profile is artistically blended with natural absolutes to evoke heavenly scented flowers of the seasons. With bright top notes of violet leaves and mandarin, the solitary heart note of osmanthus, and coriander resting in the base, likening the phases of the moon to the budding and blooming of trees.
TOP Violet Leaves, Mandarin
MIDDLE Osmanthus
BASE Coriander
A trio of demitasse brass candle cups infused with a tincture of essentials and absolutes extracted from beautiful and natural plant substances.
Each beautiful box contains a set of one fragrance in our custom hand forged brass cups. A collection of four subtle yet complex olfactory profiles derived from all-natural aroma compounds. Disperse the candles amongst your space to infuse the room with scent.
The ancient pomander, often made of gold or silver, inspired our gold container. The term "pomander" can refer to the scented material itself or to the container that which contains such material. We filled ours with natural vegetable based wax and fragrant oils made from 100% natural materials. Filled with the sweet aromas of flowers, the depth of resins, woods, and greens extracted from natural plant substances, and sprays of blossoms and citrus. The influence of flowers; naturally tranquil, reclusive, luxurious, and beautiful.
Each hand forged brass cup holds 2 ounces, with approximate 10 hour burn time. Total product weight 6 ounces.