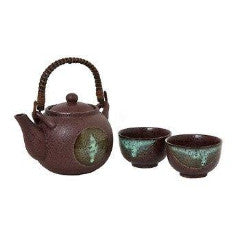 Japanese Tea Set Gift Set
Artisan Made Japanese Tea Set
includes:
Japanese Teapot and Two Cups
+ Plum Blossom Incense and wooden incense burner in a black box.
The incense is recipe of sandalwood and cinnamon evokes the scent of a spring forest.
150 sticks burn for 30 minutes each
Like an Aqua colored moon, this tea set is dreamy, calming and beautiful to gaze upon
Glaze may vary slightly.
artisan made in Japan.